Accomodations & Rates
PRIVATE STUDIO APARTMENT
Amenities include the Gardens, perfect for unwinding after an active day, as well as Jacuzzi in selected Suites, cablevision and DVD players in all Studios, Deluxe Rooms and Suites. Personal Code/Keyless Self-Entry is provided for all apartments, suites and deluxe rooms, for guest convenience and security.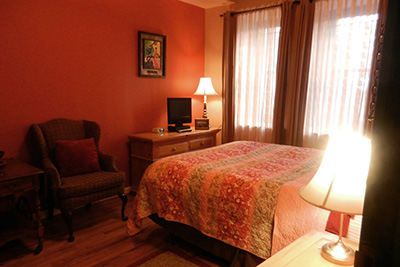 Spacious, fully-furnished studio apartment, featuring queen-size bed, full kitchen with all new appliances and cabinets, ample closets, and completely renovated private bath, color TV with cablevision, DVD player, AM/FM stereo clock radio and wireless internet connection. Front courtyard access for relaxing with an evening cocktail or glass of wine, or simply enjoying a conversation with friends or other guests.
Mini apartment
starting from $99.00 per night (*)
2 persons per room
Deposit of 25% of the total is required to confirm.
(*) Prices are exclusive VAT/Tax.
Prices are subject to change without notice.